M1 Series Digital Manometer Calibrator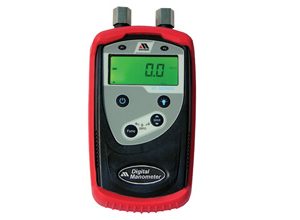 SPECIAL ORDER:
For more information on purchasing this product please contact Meriam at 216.281.1100
The M1 Series of handheld manometers from Meriam Process Technologies combines form, fit and function to deliver precision pressure measurement for field, plant or lab use. For reference indication and shirt pocket convenience, select the low cost M100 Digital Manometer with its +/- 0.25% FS accuracy.
Or specify the M101 Calibrator when better accuracy is needed for more exacting measurements. The M101 delivers +/- 0.10% FS accuracy and additional features normally found on higher priced instruments. Both models are available in differential, gauge and absolute pressure versions.
Typical applications include leak testing for low pressure gas systems, pressure drop monitoring across filters, monitoring vacuum on condensers or pumps and verification of CPAP or BIPAP systems for home or hospital settings.
For More Information on How to Purchase this Product Contact sales@meriam.com or Call 216.281.1100
M1 Series Digital Manometer Calibrator Resources
Impressive Accuracy
Accuracy of ±0.25% Full Scale for M100
Accuracy of ±0.10% Full Scale for M101
No temperature effect over operating range 14° F to 122° F (-10° C to +50° C)
Numerous Field, Plant and Lab Applications
Leak testing for low pressure gas systems
Pressure drop monitoring across filters
Designed to handle tough applications
Ease of Use
Leak testing for low pressure gas systems
Pressure drop monitoring across filters
Designed to handle tough applications
Measures Various Types of Pressure
Differential
Gauge
Absolute